Objects
I have been working in the new museum recently and it is looking fantastic – and it will get even better when the objects for display start appearing in the cases!
Some of these will be recognised from previous displays in Hitchin Museum and Letchworth Museum and others will be on view for the first time.
There will also be many objects in store but we can look forward to seeing some of these in special exhibitions and displays.
From time to time I reflect on some of the items I have worked with(cleaning/photographing/packing) and which I hope to see amongst the wonderful displays we will be treated to!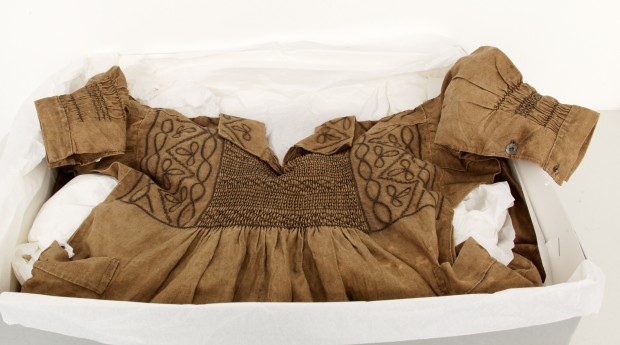 This smock was worn by a shepherd in Wallington (Hertfordshire) and each side (front and back) is the same.
Smocks were worn as protective outer garments and were made from rectangles and squares of fabric. Some of these pieces were smocked to give the garment its shape but the smocking was also decorative.
I can imagine the shepherd out in the fields, wearing this comfortable smock, which as well as covering his clothes also hopefully gave him some protection from the elements.
It's exciting to see the new museum taking shape, as contractors install cases and measure objects ready for mounting. As part of the work to get the new displays ready, museum staff have been busy putting the finishing touches to labels, and moving some of the larger objects on to site.
This week, the large Lucas painting that hung on the stairs at Hitchin Museum was taken down and moved, ready to be mounted in its new display position early next year.
Some of the other things we moved included a wheel pattern, a mangle, a Polyphon, a door, a 'Penny farthing' bicycle and a large dolls' house.
The old display galleries at both of the former museums are now full of boxes of packed objects as we continue to pack the stored collections ready to move, and staff have recently been packing boxes of books and files from the offices of each museum. At the new museum, objects and graphic panels are starting to go into cases, and everything is taking shape. We can't wait to welcome the public into the amazing new museum when it's finished!
Merry Christmas and a Happy New Year from all at North Hertfordshire Museum!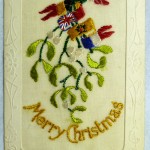 As you open your Christmas cards this year, imagine opening one like the one above, beautifully embroidered by hand, and sent to you from the front line of the First World War. This card helped to connect soldiers to their families at home, and they would have waited eagerly for a reply.
Silk postcards grew in popularity from 1915, though they first appeared around 1900. Some estimates suggest as many as 10 million cards were produced during the First World War.
Each card was produced as part of a cottage industry which saw mostly women engaged in intricate designs being hand embroidered onto strips of silk mesh, the design being repeated as many as 25 times on a strip. This was then sent to a factory for cutting and mounting as postcards and greetings cards. The cards themselves were bought from civilians trying to scrape a living from supplying soldiers' needs in the immediate war zone. They were not cheap, each one costing as much as three times the daily pay of the average soldier. Although they are postcards, they were often sold and sent home in an envelope to protect their contents.
There is a huge range; some had sentimental messages, such as "friendship", "birthday greetings", "Home Sweet Home" and some cards celebrated festivals and holidays. Many had delicately opening pockets with a small card insert. Others would give "Greetings from France" or poignant messages "from the trenches".
Today this card connects us to events that occurred 100 years ago, and reminds us of the people who were not so different from us.