Volunteer
A guest post from Dylan Bailey
For a week or so in August, I worked as a volunteer at the as-yet-to-be-opened North Hertfordshire Museum in Hitchin. I wanted to do some work experience to put on my personal statement, as I am interested in studying History at university and thought working at a history museum would be an interesting experience to include.
I was given a job to do on my first day. In the museum, which contains a variety of valuable museum pieces collected from all over North Hertfordshire, there is a map (presumably printed in the 1930s) called the 'Incident Map', which shows us where Axis bombs were dropped in and around the Hitchin Rural District during World War Two.
The map (which was originally on display at Hitchin Museum) has a key with eight symbols on it. These symbols each represent a different bomb or object that landed in the Hitchin Rural District during the war. The eight 'subjects' that are featured on the map are: 'High Explosive Bombs', 'Parachute Mines', 'Oil Bombs', 'Firepot Bombs', 'Phosphorous Bombs', 'Fly Bombs', 'Rockets', and 'Enemy Planes'. The final one, 'Enemy Planes', was marked by a Swastika (the symbol most typically associated with the Nazis during World War Two).
This map indicates that all these bombings took place throughout the war, from 1939 all the way to 1945. The task that I was given to do at the museum was to start mapping out these bombing positions on Google Earth, so then people could see where the bombs landed in relation to our present-day geography. I was given this job due to my personal fascination with World War Two and in general modern history. There are plans for the Google Earth map to eventually be processed, so then people can interact with it in the museum.
Knowing exactly where the bombs fell in North Hertfordshire in relation to how the county's land is laid out now and being able to interact with it will hopefully help people to learn more about our local history then they could before now. I finished placing all the bomb markings on except for the 'High Explosive Bombs'. I started on them but found that there were simply too many to finish by the end of my tenure at the museum. However, I got the vast majority of the bombs mapped out onto Google Earth.
The bombs so far mapped by Dylan shown in Google Maps
Yet I think I have made a positive start to the project in which the museum workers can continue to work on. I had some trouble with the scaling, and so I am not completely confident that I have placed all the markings from the map in the right spot on Google Earth. However, I feel that overall I have made a significant contribution to the North Hertfordshire Museum and helped them in their goal of preserving North Hertfordshire's culture and heritage.
31 August 2016
We've been involved in a partnership project since last year with Stevenage Museum and the British Schools Museum called Museum Champions. It is funded by Arts Council England, and allowed the three museums to appoint a Volunteer Development Officer. The aim has been to diversify and strengthen our volunteer programmes at each museum, try new things, and share what we've all learned. North Hertfordshire Museum recruited a group of 35 young people aged 14-18 from two Hitchin secondary schools to explore youth volunteering. They worked in groups to think up events to promote the new museum, and one of their first events was a pop up museum in the Market Place on 19 March. The students designed and distributed the poster, devised handling activities and attended on the day. Over 200 people stopped to chat and many put their name down for an e-mailing list to be kept informed about progress towards opening.
One of the groups of young people has worked hard over several weeks to prepare a small display to be part of the 'Flowers and Wedding Dresses through the Ages' event at St Mary's Church, Hitchin on 25th and 26th June. The girls, from year 12 at Hitchin Girls' School, are interested in going on to university to study a mixture of history of art, history and English Literature. They wrote labels for four wedding dresses, loaned to the display from the Learning Collections of North Hertfordshire and Stevenage Museums. They also helped to set up the display in the church, padding mannequins to give the dresses the right shape.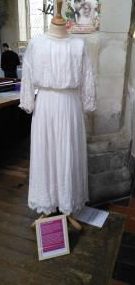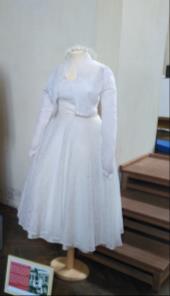 Some of the finished displays in St Mary's Church, Hitchin. L-R: An Edwardian tea-dress-style wedding dress and a ballerina style wedding dress from 1956.
The volunteers have enjoyed their experiences so far, particularly the chance to work with others, planning events and working in groups. It gave them a chance to see what life is like for adults working in museums, and to study artefacts.
The group are now taking a break during the exam season and will be back at the museum again just before the summer holiday.
At long last our extensive geology collection is now almost completely catalogued and on the computer, thanks to the hard work of volunteer Vicky Fish. Vicky has been coming to the Burymead store every Monday for the last year, carefully cataloguing the fossils, geology and stratigraphy. Her experience here (and at Ashwell Museum) helped her win a coveted place on the Leicester University post-grad Museum Studies course, which she starts on Monday. Thanks to Vicky we now know that the collection includes fossils of large marine reptiles (Plesiosaur and Carcharodon megalodon) found in Letchworth and Baldock dating back 90 million years, when this area was sub-tropical, and  covered in 100 metres of warm water. We wish her the best of luck for the future.