museum
North Hertfordshire Museum and the British Schools Museum used a grant provided by Affinity Water to run a week of science investigation activities for local school children. Together, we devised a programme to offer 170 children the chance to spend the day learning about Photography , Science and Local History .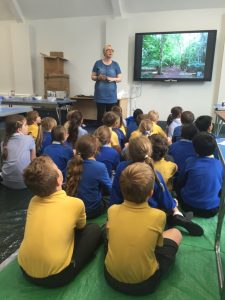 At the new North Hertfordshire Museum in our upstairs Learning Centre the children from Whitehill and Purwell Schools  did experiments making and testing water filters.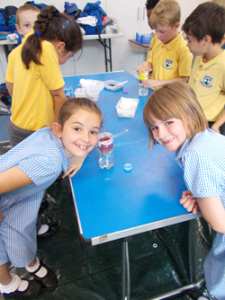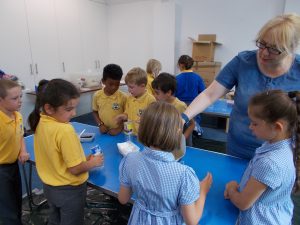 They also made bubble bath to take home :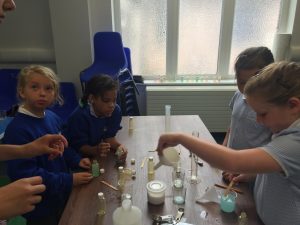 At the British Schools Museum they made pin hole cameras and solar prints.
Suzanne Walton, Deputy Head of Whitehill School, said "The children had a wonderful time; the activities worked well with what they had been learning and we had a great day at both museums".
We've been involved in a partnership project since last year with Stevenage Museum and the British Schools Museum called Museum Champions. It is funded by Arts Council England, and allowed the three museums to appoint a Volunteer Development Officer. The aim has been to diversify and strengthen our volunteer programmes at each museum, try new things, and share what we've all learned. North Hertfordshire Museum recruited a group of 35 young people aged 14-18 from two Hitchin secondary schools to explore youth volunteering. They worked in groups to think up events to promote the new museum, and one of their first events was a pop up museum in the Market Place on 19 March. The students designed and distributed the poster, devised handling activities and attended on the day. Over 200 people stopped to chat and many put their name down for an e-mailing list to be kept informed about progress towards opening.
One of the groups of young people has worked hard over several weeks to prepare a small display to be part of the 'Flowers and Wedding Dresses through the Ages' event at St Mary's Church, Hitchin on 25th and 26th June. The girls, from year 12 at Hitchin Girls' School, are interested in going on to university to study a mixture of history of art, history and English Literature. They wrote labels for four wedding dresses, loaned to the display from the Learning Collections of North Hertfordshire and Stevenage Museums. They also helped to set up the display in the church, padding mannequins to give the dresses the right shape.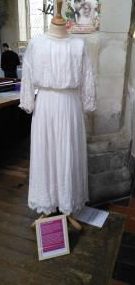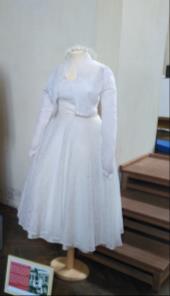 Some of the finished displays in St Mary's Church, Hitchin. L-R: An Edwardian tea-dress-style wedding dress and a ballerina style wedding dress from 1956.
The volunteers have enjoyed their experiences so far, particularly the chance to work with others, planning events and working in groups. It gave them a chance to see what life is like for adults working in museums, and to study artefacts.
The group are now taking a break during the exam season and will be back at the museum again just before the summer holiday.
I have been working in the new museum recently and it is looking fantastic – and it will get even better when the objects for display start appearing in the cases!
Some of these will be recognised from previous displays in Hitchin Museum and Letchworth Museum and others will be on view for the first time.
There will also be many objects in store but we can look forward to seeing some of these in special exhibitions and displays.
From time to time I reflect on some of the items I have worked with(cleaning/photographing/packing) and which I hope to see amongst the wonderful displays we will be treated to!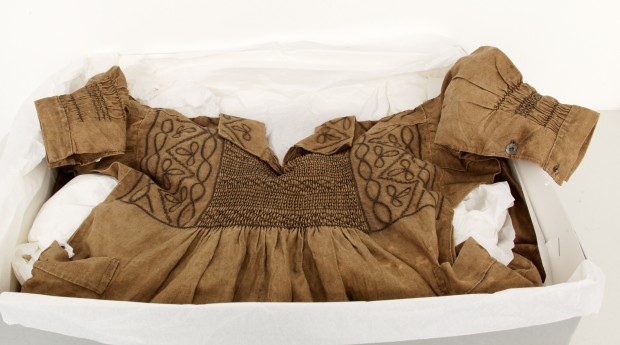 This smock was worn by a shepherd in Wallington (Hertfordshire) and each side (front and back) is the same.
Smocks were worn as protective outer garments and were made from rectangles and squares of fabric. Some of these pieces were smocked to give the garment its shape but the smocking was also decorative.
I can imagine the shepherd out in the fields, wearing this comfortable smock, which as well as covering his clothes also hopefully gave him some protection from the elements.