Sian Woodward
This is the North Hertfordshire museum blog. Find out more about the museum here
The ground floor is currently open to the public Tuesday to Saturday, 10.30 to 4.30; access is through the front door of Hitchin Town Hall. There may be times when the platform lift for wheelchair users is not available, so if you may need to use it, please ring ahead to check on 01462 474554 or email us.
There are free guided tours of the upstairs gallery available: Monday 2pm, Friday 5pm and Saturday 11am.
Book online here
This blog will soon be updated with a brand new look. Watch this space!
We've been involved in a partnership project since last year with Stevenage Museum and the British Schools Museum called Museum Champions. It is funded by Arts Council England, and allowed the three museums to appoint a Volunteer Development Officer. The aim has been to diversify and strengthen our volunteer programmes at each museum, try new things, and share what we've all learned. North Hertfordshire Museum recruited a group of 35 young people aged 14-18 from two Hitchin secondary schools to explore youth volunteering. They worked in groups to think up events to promote the new museum, and one of their first events was a pop up museum in the Market Place on 19 March. The students designed and distributed the poster, devised handling activities and attended on the day. Over 200 people stopped to chat and many put their name down for an e-mailing list to be kept informed about progress towards opening.
One of the groups of young people has worked hard over several weeks to prepare a small display to be part of the 'Flowers and Wedding Dresses through the Ages' event at St Mary's Church, Hitchin on 25th and 26th June. The girls, from year 12 at Hitchin Girls' School, are interested in going on to university to study a mixture of history of art, history and English Literature. They wrote labels for four wedding dresses, loaned to the display from the Learning Collections of North Hertfordshire and Stevenage Museums. They also helped to set up the display in the church, padding mannequins to give the dresses the right shape.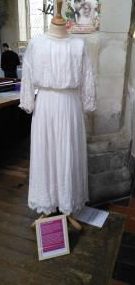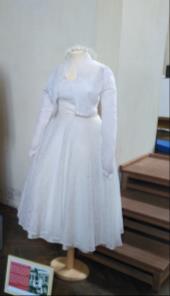 Some of the finished displays in St Mary's Church, Hitchin. L-R: An Edwardian tea-dress-style wedding dress and a ballerina style wedding dress from 1956.
The volunteers have enjoyed their experiences so far, particularly the chance to work with others, planning events and working in groups. It gave them a chance to see what life is like for adults working in museums, and to study artefacts.
The group are now taking a break during the exam season and will be back at the museum again just before the summer holiday.
It's exciting to see the new museum taking shape, as contractors install cases and measure objects ready for mounting. As part of the work to get the new displays ready, museum staff have been busy putting the finishing touches to labels, and moving some of the larger objects on to site.
This week, the large Lucas painting that hung on the stairs at Hitchin Museum was taken down and moved, ready to be mounted in its new display position early next year.
Some of the other things we moved included a wheel pattern, a mangle, a Polyphon, a door, a 'Penny farthing' bicycle and a large dolls' house.
The old display galleries at both of the former museums are now full of boxes of packed objects as we continue to pack the stored collections ready to move, and staff have recently been packing boxes of books and files from the offices of each museum. At the new museum, objects and graphic panels are starting to go into cases, and everything is taking shape. We can't wait to welcome the public into the amazing new museum when it's finished!
Merry Christmas and a Happy New Year from all at North Hertfordshire Museum!