Emily Iveson
Now that I have come to the end of my internship with the North Herts Museums, and taken pictures of thousands of objects, I thought I would share my favourite object from the Social History Store at Burymead.
The object I liked most in the Social History Store was the wooden Bird House.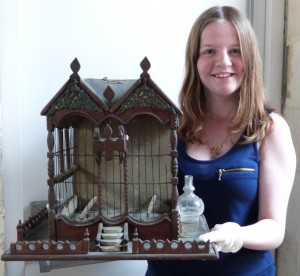 When we first discovered it in the depths of the store room, it was very dusty, and its only inhabitant was a lonely spider. But once we had taken the object out, dusted it off a little and taken the spider out it was clear that it was a very beautiful, decorative bird house.The birdhouse is very ornate and delicate, the bird house itself probably would have been a decoration in the front room.
In the 18th century, birds lived in dwellings that were similar of houses for people than for the birds themselves. Often made of expensive and exotic woods and built like miniature architectural models, these structures were found among the very rich and fashionable people of England and France. While structurally beautiful, most of these fantastic cages did little to support the needs of the bird. Often dangerous for the birds and difficult to clean, it's amazing that the birds survived in these structures at all.
I particularly like the small set of steps leading up to the 'door', which were obviously useless for the bird, but make the entire cage look more like a house.
Finally I would like to thank everyone at the North Herts Museum Service for being so welcoming and giving me the opportunity to see the objects in storage. I look forward to visiting the new museum in 2015.
Whilst continuing our work in the Social History store, we have been coming across lots of boxes marked 'Toys'.
These boxes contain a variety of items; including card games, dolls, model animals, walkers and books, some of which are in very good condition and have obviously been well cared for.
The photos below show some of the toys we have come across so far.
Enjoy!
This week at Burymead we found these two Medical bags in brilliant condition, one belonging to Dr. Machen, who recently retired from Regal Chambers Surgery in Hitchin.
We both thought these were both very interesting as it was fascinating to look at what actually was in a Doctor's bag, but especially the obstetrician's bag as some of the equipment isn't commonly used any more. We hope you have found this as interesting as we did.