We've been involved in a partnership project since last year with Stevenage Museum and the British Schools Museum called Museum Champions. It is funded by Arts Council England, and allowed the three museums to appoint a Volunteer Development Officer. The aim has been to diversify and strengthen our volunteer programmes at each museum, try new things, and share what we've all learned. North Hertfordshire Museum recruited a group of 35 young people aged 14-18 from two Hitchin secondary schools to explore youth volunteering. They worked in groups to think up events to promote the new museum, and one of their first events was a pop up museum in the Market Place on 19 March. The students designed and distributed the poster, devised handling activities and attended on the day. Over 200 people stopped to chat and many put their name down for an e-mailing list to be kept informed about progress towards opening.
One of the groups of young people has worked hard over several weeks to prepare a small display to be part of the 'Flowers and Wedding Dresses through the Ages' event at St Mary's Church, Hitchin on 25th and 26th June. The girls, from year 12 at Hitchin Girls' School, are interested in going on to university to study a mixture of history of art, history and English Literature. They wrote labels for four wedding dresses, loaned to the display from the Learning Collections of North Hertfordshire and Stevenage Museums. They also helped to set up the display in the church, padding mannequins to give the dresses the right shape.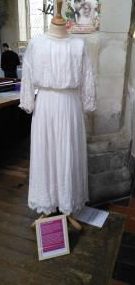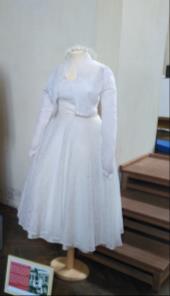 Some of the finished displays in St Mary's Church, Hitchin. L-R: An Edwardian tea-dress-style wedding dress and a ballerina style wedding dress from 1956.
The volunteers have enjoyed their experiences so far, particularly the chance to work with others, planning events and working in groups. It gave them a chance to see what life is like for adults working in museums, and to study artefacts.
The group are now taking a break during the exam season and will be back at the museum again just before the summer holiday.
Interested in learning more about human remains: the bones of the body, identifying sex, age, and illnesses on individuals from past populations? As part of the 26th Festival of Archaeology, North Hertfordshire Museum is hosting a one-day hands-on human remains workshop as part of a project to further our understanding of health in and around Baldock, Hertfordshire, the site of small Roman town.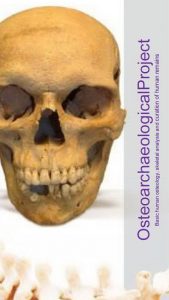 The course takes place on Saturday 9 July 2016, from 10 am to 5 pm, in the Learning Centre of the new North Hertfordshire Museum, Brand Street, Hitchin SG5 1JE.
It will allow people the opportunity to directly analyse human remains from the Roman and Medieval periods. This is an ideal opportunity for members of the general public, undergraduates and graduates in archaeology and forensics, medical professionals, museum staff, local archaeologists from societies as well as anyone who wants to know more about osteology and what human remains can tell you and how to handle and curate them. It is a great way to gain hands-on experience of human remains in a museum environment and learn about the past from people who lived through it.
Classes are limited to twelve students to ensure maximum access to the remains and guidance from a trained osteoarchaeologist with experience on hundreds of skeletal remains. This is a general course suitable for anyone and the day revolves around handling skeletal remains. The day will include:
Training in how to identify different bones and layout a human skeleton
Determining sex, age, and height of individuals
Identifying different pathologies and the health of a person at death
Using skeletal remains and other evidence to reconstruct life in different periods
Reviewing the different stages of skeletal remains from burial, archaeological excavation, osteological study, curation or reburial
Learning how to curate and record remains
Cost £55, including tea, coffee and course materials.
Booking form: Adobe PDF or MS Word document formats.
Contact: Dr David Klingle, Osteoarchaeologist, Osteoachaeology Initiatives, 46 High Street, Chesterton, Cambridge CB4 1NG, mob 07578 323410, email david.klingle@cantab.net or david.klingle@yahoo.co.uk. Please book directly with Dr Klingle, not through North Hertfordshire Museum.
Although the old museums are closed, and we're waiting for the wonderful new North Herts. Museum to open, where appropriate we still acquire new works for the collection. Last year we were extremely fortunate to gain grant aid from three generous funders (the Art Fund, the Arts Council/V & A Purchase Fund, and the Hertfordshire Heritage Fund) to purchase M4, a work by internationally-renowned artist Richard Smith.
Richard Smith has long been recognised as one of the most important painters of his generation, with work in major collections throughout the world, including over 90 paintings and drawings in the Tate. He was born in Letchworth in 1931, at school there and later at Hitchin Boys' School. After art school in Luton and St Albans, Smith attended the Royal College of Art, winning a Harkness Fellowship to New York in 1959. Here he produced work that was abstract and concerned with the formal use of space and colour, yet, like the work of contemporary Pop Artists, referenced American advertising and culture. He began to use shaped canvases, and then kite-like constructions, using canvas with string and tubing. In 1971 there was an exhibition of Smith's work at Letchworth Museum. He returned to live permanently in New York in 1978.
A couple of years ago I discovered that Smith was born locally, so should really be represented in the museum collection in some way. I rang his London dealer the Flowers Gallery to ask if they had a photograph of him we could use, as I didn't think we'd be able to afford one of his paintings. In a stroke of pure good fortune, they told me that he was coming over for a retrospective exhibition in a couple of weeks, and asked if I'd like to meet him at the exhibition opening. I was thrilled to meet him at the show, and realised that with a package of grant aid, we might be able to afford a small painting. The piece I chose M4, of 1968, is a green and red coloured drawing in a Perspex box; the lower half curves backwards, giving it a sculptural quality. It took a while to put together the grant applications, but we were successful, and the museum is extremely grateful to the three funders.
The work is on view in Letchworth at the moment, lent to the first exhibition in the new Broadway Gallery, Leys Avenue, Letchworth (previously Letchworth Art Centre). The curator, Laura Dennis, will be talking about Richard Smith on Monday evening, 4 April, for the Letchworth Garden City Society. The talk starts at 7.30pm in the Broadway Gallery, and non-members are welcome; admission is free. The exhibition , Richard Smith, Reunion, runs until 5  June, and the gallery is open Wednesday to Sunday.